My-Hosts.com
This Page :
Easy Guides

---
| | |
| --- | --- |
| | Outlook Express 5 |
| | | |
| --- | --- | --- |
| | | Checking your mail settings. |

A.
Check your mail settings

B.
Adding a new mail account
---
The mail settings will be specific to you, you should have been told what the mail settings are, if not please contact support.
In the examples below you must replace the following.

mx.domain.com with your pop server
smtp.isp.com with the smtp server provided by your internet provider.
userXX00 will be the format of your username but this will be specific to you.
We do not allow the sending of email through our servers avoid the sending of spam.
---

A. Check your mail settings.
It is essential that email settings are correct when sending mail.
To check that the details for an existing email account are correct follow the steps below.
1. Select 'Tools', then 'Accounts' from the Outlook Express menu bar.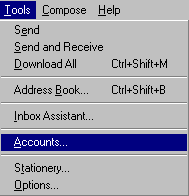 2. Highlight the appropriate account (which will ususally be lsited as 'mx.domain.com') by clicking on it with your mouse, then select 'Properties'.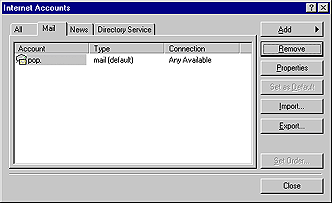 3.
From the Properties box, click on the 'General' tab at the top. Make sure that the name, organisation, e-mail address, and reply to address that you want to appear on your e-mails is correct. The account is usually labelled 'pop.domain.com', but this is not important.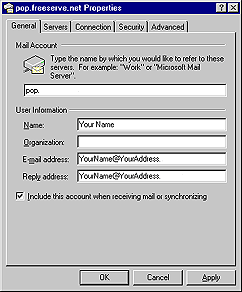 4.
Now click on the 'Server' tab at the top.